CONTINUOUS JOURNEY
11:30 am, Sunday, November 13th
Roxie Cinema, San Francisco
Director: Ali Kazimi
Country: Canada/India (2004)
Running Time: 87 mins; Beta SP

Continuous Journey is a multi-award-winning film that stunningly chronicles a long-forgotten historical moment, one that forever changed the immigration policies of the British Empire.
On May 23rd, 1914, the Japanese shipping vessel Komagata Maru, chartered by Sikh businessman Gurdit Singh, arrived in Canada's Vancouver Harbor. Aboard were 376 migrants of Indian origin, citizens of the British Empire who believed it their right to move and settle freely within its domain. Upon anchoring, however, the passengers were prevented from disembarking by local Canadian officials, whose decision reflected a growing nationwide resistance to non-white immigration. This refusal to allow the Indian passengers ashore galvanized the nascent Vancouver Indian community, fueling an outbreak of support for their countrymen trapped without provisions for over two months, aboard a ship anchored only a heartbreaking half-mile from shore.
Combining newly discovered archival footage, newsreels, poignant personal testimonials, and dramatically worked digital photography, Continuous Journey critically examines how today's global events are actually reflections of past Colonial strategies.
— Prasant Nukalapat
---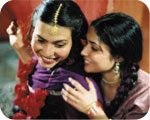 SILENT WATERS (Khamosh Pani)
1:30 pm, Sunday, November 13th
Roxie Cinema, San Francisco
Director: Sabiha Sumar
Country: Pakistan/France/Germany (2003)
Running Time: 95 mins; 35mm Color
In Punjabi with English Subtitles

Set in 1979 Pakistan, during General Zia Ul-Haq's reign, Silent Waters is an incredibly moving and cinematically rich portrayal of a country and it's people struggling with a troubled past and an uncertain future, as forces of Islamic nationalism gather strength around them. Kiron Kher plays Ayesha, a widow with an 18-year-old son Saleem - who spends a large part of his time romancing beautiful Zubeida. Ayesha and Zubeida's serene life is turned upside down, as a group of Sikh pilgrims come to town triggering Ayesha's painful memories of her buried past.
---
NO MORE TEARS, SISTER: AN ANATOMY OF HOPE AND BETRAYAL
5:30 pm, Sunday, November 13th
Roxie Cinema, San Francisco
Director: Helene Klowdawsky
Country: Canada, Sri Lanka (2004)
Running Time: 79 mins; DVCAM Beta SP
In English/Sinhalese w/English Subtitles
A story of love, revolution, and betrayal, No More Tears Sister explores the price of truth in times of war. Set during the violent ethnic conflict that has enveloped Sri Lanka over decades, the film beautifully renders the courageous and vibrant life of renowned human rights activist Dr. Rajani Thiranagama. Wartime mother, university professor, wife, activist, and symbol of hope, Rajani was assassinated at the young age of thirty-five.
This critically acclaimed film is superbly photographed, using rare archival footage and intimate correspondence; the story of Rajani and her family delves into a rarely explored theme - revolutionary women and their dangerous pursuit of justice.
---