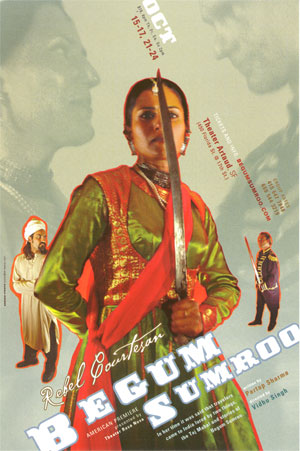 BEGUM SUMROO
The Rebel Courtesan

Written by
Pratap Sharma
Directed by
Vidhu Singh
The American premiere of a thrilling epic based on the true story of a dancing girl's rise to fame and glory in British India.
THE STORY

Compared to France's legendary Joan of Arc, Begum Sumroo transformed herself from a dancing girl into a formidable ruler, known for her political accomplishments as well as her amorous liaisons. After seducing a Swiss German mercenary, she becomes the powerful ruler of a kingdom that shaped India's destiny during the clashes between the forces of the declining Moghul Empire and the rising English East India Company.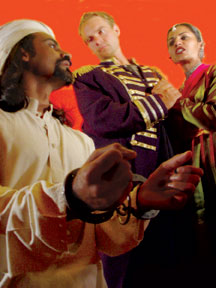 THE PLAY

Playing to packed houses for over a year in India, Begum Sumroo has it all - a courtesan with an appetite for affairs of state, an aging Emperor, a plotting eunuch, ruthless mercenaries, smoking cannons and brothels, and passion and betrayal.
Written by internationally acclaimed Indian playwright Pratap Sharma and directed by Vidhu Singh, former Managing Director of the Asian American Theater Company. Singh holds a doctorate in Asian Theater and currently resides in San Francisco, teaching multicultural drama and directing provocative plays that bridge diverse cultural themes, styles and audiences.
THE CAST
Saqib Mausoof, Sukanya Mehr, Rakesh Modi, Raj Pakkala, Axel Parker, Janaki Ranpura, Nidhi Singh, Karl Wieser, Randall Wright, Nicholas Hall, Sonny Harris, Cedric Westphal, and Grey Wolf.

Presented by Theater Rasa Nova in association with EKTA.
Theater Rasa Nova is a San Francisco-based group committed to producing extraordinarily inspiring theater that sets your heart and soul on fire. The name "Theater Rasa Nova" brings together the Sanskrit word "Rasa," literally taste or sentiment, with the Latin word "Nova" or new.