Bay Area Premiere of Film by Pervez Hoodbhoy and Zia Mian
CROSSING THE LINES: KASHMIR, PAKISTAN, INDIA
"A compelling fresh look at an age old problem that could be the spark of a nuclear war." -Ahmed Rashid, author of Taliban
"This film violates the grand narrative of nationalism on all sides. It shocks with its unfamiliar humanity." - Khaled Ahmed, Daily Times
Nationalism and religion have entangled the fate of Kashmiris, Pakistanis and Indians for over 5 decades. After four wars, Kashmiris and their land are divided between Pakistan and India, the source of recurring crises. Many feel that the next war may be a nuclear war. In this tragedy, each side tells the story of the injustice and violence of the other, and feels only the suffering of their own. This path-breaking independent documentary film, made in Pakistan, challenges us to look at Kashmir with new eyes and to hope for a new way forward.
Interviews of key figures and ordinary people from every side, rare archival footage and computer animations weave together a rich and moving narrative. We hear leading Kashmiri militants voice the frustration of their hopes for democracy and their desperate rebellion against oppressive Indian rule. We see how Pakistan's relentless determination to confront India created an Islamic holy war that brought terror and death to Kashmir. Radical Hindu leaders in India and Islamic militants in Pakistan explain their shared conviction that Kashmir is part of a greater struggle that knows no limits. We discover how amid rising religious passions, governments in India and Pakistan seek to build national identity through cultivating prejudice and hatred towards the other. We explore how creating and changing bitterly contested borders offers little prospect for peace and justice.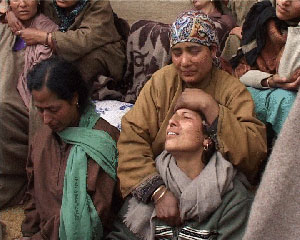 The film chronicles the wars, the failed efforts at peace and the daily toll this failure exacts on those caught on the frontline of this dispute. It shows how India and Pakistan's dramatic nuclear tests spurred the conflict to new heights, and explores the ways in which India's great power ambitions, and the interests of the Pakistani army, continue to make peace so elusive.
Rejecting the national ambitions of Kashmiris, Pakistanis and Indians alike, the film offers a vision of a shared future for all of South Asia built on a common humanity.
Produced for the Eqbal Ahmad Foundation, 2004 (45 minutes)
Dr. Pervez Hoodbhoy received his bachelor's degrees in electrical engineering and mathematics, master's in solid state physics, and Ph.D in nuclear physics, all from the Massachusetts Institute of Technology. He has been a faculty member at the Department of Physics, Quaid-e-Azam University, Islamabad since 1973.
In 1984 he received the Abdus Salam Prize for mathematics and, earlier, the Baker Award for Electronics. In 2003, Dr. Hoodbhoy was awarded UNESCO`s Kalinga Prize for popularizing science in Pakistan with TV serials and his film `The Bell Tolls for Planet Earth` won honorable mention at the Paris Film Festival.
He is chairman of Mashal, a non-profit organization that publishes books in Urdu on women's rights, education, environmental issues, philosophy, and modern thought.
Dr. Hoodbhoy has written and spoken extensively on topics ranging from science in Islam to education issues in Pakistan and nuclear disarmament. He produced a 13-part documentary series in Urdu for Pakistan Television on critical issues in education, and two other major television series aimed at popularizing science. He is author of "Islam and Science: Religious Orthodoxy and the Battle for Rationality", now in 5 languages. His writings have appeared in Dawn, The News, Frontier Post, Muslim, Newsline, Herald, Jang, and overseas in Le Monde, Japan Times, Washington Post, Asahi, Seattle Times, Post-Intelligencer, Frontline, The Hindu, and Chowk Magazine.
He has been an engaged speaker at more than twenty US campuses including MIT, Princeton, Univ. of Maryland, and Johns Hopkins University. He has appeared on several TV and radio networks (BBC, CNN, ABC, NBC, PBS, NPR, Fox) to analyze political developments in South Asia. (Source: Peace and World Security Studies website (PAWSS), Hampshire College, Massachussetts.)
Dr. Hoodbhoy lives in Islamabad, Pakistan.
Zia Mian is a physicist and member of the research staff at Princeton University's Program on Science and Global Security. His work focuses on nuclear weapons and nuclear power issues, especially in South Asia.
His work is published in technical journals and magazines, as well as newspapers in a number of countries. He is the co-editor, most recently, of Out of the Nuclear Shadow with Smitu Kothari.
Earlier books include Pakistan's Atomic Bomb and the Search for Security and Making Enemies, Creating Conflict: Pakistan's Crises of State and Society. He has previously worked at the Union of Concerned Scientists in Cambridge, MA, and the Sustainable Development Policy Institute in Islamabad.
He has taught at Princeton's Woodrow Wilson School of Public and International Affairs, at Yale University, and at Quaid-i-Azam University, Islamabad. In addition to his research and writing, he is active with a number of civil society groups working in the area of nuclear disarmament and with the peace movement.