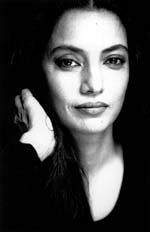 SHABANA AZMI
on the rise of communalism in India
Shabana Azmi is an internationally acclaimed actress, Member of the Indian Parliament, and UN Goodwill Ambassador. Known for her commitment to social causes, she has been a fierce and powerful advocate for the disadvantaged, fighting for the rights of minorities, slum dwellers, and women. Her political work can almost be seen as an extension of her work as an actress as Shabana Azmi has so often portrayed women discovering how to stand up to the many forces that seek to oppress them.
As chairperson of the Nivara Hakk Suraksha Samiti she arranged for alternate land for the disputed slum dwellers of Sanjay Gandhi Nagar in Mumbai and undertook to diffuse tensions after the demolition of the Babri Masjid in Ayodhya. For her excellence in social activism, Shabana Azmi won the Rajiv Gandhi Award as well the Yash Bhartiya award from the government of the state of Uttar Pradesh, India. Most significantly she was awarded the Padma Shri in 1988 by the Government of India, an award given to eminent citizens for excellence in their field and distinguished contribution to society.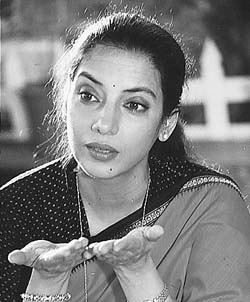 Shabana Azmi earned a name for herself as an actress not only in commericial cinema but in parallel cinema as well. She has acted in over sixty films and made a number of stage appearances in the last three decades. She is the winner of an unprecedented five National Awards for Best Actress in India for the films Ankur (1974), Arth (1983), Khandhar (1984), Paar (1985), and Godmother (1999) and international awards for best actress at the Taormina Arte Festival in Italy for Patang (1994), the Chicago International Film Festival and the Los Angeles Outfest for Deepa Mehta's Fire (1996).
Several retrospectives of her films have been screened at the New York Film Festival, the George Pompidou Center in Paris, the Norwegian Film Institute, the Smithsonian Institute and the American Film Institute in Washington as well as at the Pacific Cinemetheque and Winnipeg Cinematheque. She has been chairperson of the jury at the Montreal International Film Festival and the Cairo International Film Festival. She won international acclaim in John Schlesinger's Madame Sousatzka, Nicholas Klotz's The Bengali Night; and Roland Joffe's City of Joy. Other films include Channel 4's Immaculate Conception, Blake Edward's The Son of Pink Panther, and Ismail Merchant's In Custody.
Shabana Azmi, married to poet, lyricist, and screenwriter Javed Akhter and daughter of renowned Urdu poet, Kaifi Azmi, and seasoned stage actress, Shaukat Kaifi, is a graduate of St. Xavier College in Mumbai, and the Film and Television Institute in Pune, India.