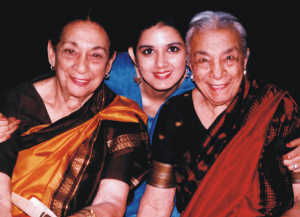 A Granny for AII Seasons
(Aik Thee Nani)

Written by
Shahid Nadeem




Background

A Granny for AII Seasons was written by Pakistani playwright Shahid Nadeem in 1992. It was inspired by the true story of two remarkable actor sisters of the South Asian subcontinent, Zohra Segal and Uzra Butt. They both started their careers in late 1930s and worked with the legendary theatre and film personality Prithavi Raj Kapoor, the patriarch of the famous Kapoor clan of Bollywood. The two sisters, who belonged to Muslim nobility of Northern India, created a sensation in British India for adopting acting and dancing as a career. In the late '40s, their careers were violently disrupted by the Partition of India. Uzra moved to Pakistan with her husband, but Zohra decided to stay in India and pursue her acting and dancing career, working with great dancer Uday Shankar, brother of Sitar maestro Ravi Shankar. There wasn't much use (or respect) for Uzra's acting talent in Pakistan where performing arts were regarded as anti-Islamic. She abandoned her acting career and became a housewife, until Shahid's Ajoka Theatre rediscovered her in 1984. Since then, Uzra, now 85, has been a regular and leading member of Ajoka and has appeared on television as well. Zohra, 88, is a leading theatre, TV and film actor in India, and her daughter Kiran Segal is a prominent Indian classical dancer.

In 1993, the two sisters starred in Granny, acting together for the first time since their separation at the time of Partition. The play has since been performed in Pakistan, India and the UK, to great acclaim.

Historical and Political Context

When the British left India in 1947, the country was partitioned into a Hindu-majority India and a Muslim-majority Pakistan. The Partition was preceded and followed by an unprecedented transfer of population (of Muslims from India to Pakistan and of Hindus and Sikhs from Pakistan to India) and bloody communal riots. Families and provinces were cut in the middle, causing great suffering and trauma which lingers to this day. The two countries, now nuclear powers, have had three wars in the past 51 years, and in the recent years have come close to another war. Although the people of India and Pakistan share a common history, culture, languages, and religious heritage, they tend to claim that they have nothing in common. Common history is distorted to prove this point and people on both sides of the border are made to believe that those across the border are evil.

This play is also about friendship between the people of India and Pakistan, their inseparable shared history, and their inescapable common destiny. In a Pakistani context, it is an attempt to critically examine the Establishment's version of the Pakistan ideology, which has become increasingly corrupted by rising Islamic fundamentalism.

When the play was performed in Delhi to tremendous critical and popular acclaim, there were two reactions from the extremist sections in both countries. In Pakistan, conservative press and intelligence agencies condemned the "anti-Pakistan" bias of the play. On the other hand the Hindu extremist leader of Bombay, Baal Thakray, refused to allow a "Pakistani play" to be
performed in Bombay at the Prithavi Theatre Festival (instituted in memory of the late Prithavi Raj Kapoor), and the invitation had to be withdrawn.

Historical Characters Referred to in the Play

1. Moharnmad Bin Qasim: Arab General who led the first Muslim invasion of India in the 8th century. Regarded as a great hero by some and a foreign invader by others.

2. Mahmood Ghaznavi: The Afghan general of the 18th century who attacked and plundered India 17 times. Regarded as a hero in Pakistan and a villain in India.

3. Iqbal: Poet Mohmmad Iqbal, a great Urdu poet of the 20' century whose song about motherland India is one of most popular Indian patriotic songs, but who later changed his mind and presented the idea of a separate Muslim homeland called Pakistan.