A festival of films focusing on the achievements, challenges, struggles, aspirations, and empowerment of South Asian women.


Special Guests:
Filmmakers Indu Krishnan (Knowing Her Place)
and Anand Patwardhan (Narmada Diary)
All films are subtitled in English.


Saturday, November 17, 2001
reflections

Skin Deep

Reena Mohan.
1998. 83 min. India.

The search for femininity and how it permeates the self-image of contemporary Indian women.
more ...

START: 12 PM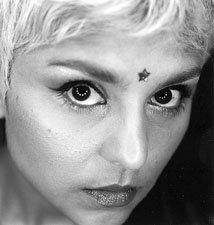 Desperately Seeking Helen

Eisha Marjara
1998. 81 min. Canada

To the Indian film mecca of Bollywood and back, Marjara seeks out her childhood film idol, Helen. more ...

Co-presented with www.thirdi.org

START: 1:33 PM

Hijab: An Expression of My Soul

Irum Shiekh and Javeria Aleem
22 min. USA

This video is about immigrant/American-born Muslim women who wear the hijab in the United States. It provides a space for Muslim women to express their voices and explain the meaning and purpose of hijab and why they choose to practice it in the Western culture. By asserting their identity, these women challenge the audience to decide for themselves if the use of hijab is a liberation or an oppression.
START: 3:03 PM
Jari Mari: Of clothes and other stories

Surabhi Sharma
2001. 74 min. India

The narrow lanes of the Jari Mari slum in Bombay house hundreds of sweatshops where people have no right to organise. The film records the changes in the nature and organisation of Bombay's workforce over the past two decades.

START: 4 PM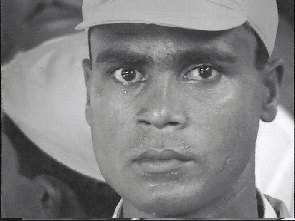 My Migrant Soul:
A Story of Modern Day Slavery

Yasmine Kabir
2000. 28 min. Bangladesh.

"an indictment of the ruthless machinery of globalization, extracting the soul out of those who fall prey to it." more ...

START: 5:24 PM
Narmada Diary

Anand Patwardhan and Simatini Dhuru
1995. 50 min. India.

On the fifteen year old battle between the Narmada Bachao Andolan (Save Narmada Movement, an anti-dam movement in Western India) and the Gujarat and Indian State(s). Investigates the Sardar Sarover Dam project which may displace over 200,000 residents of the Narmada valley. more ...

START: 7:00 PM
Discussion with filmmaker Anand Patwardhan
to follow film. 8:00PM, 20 min.
Imagine Kalpana

Gargi Sen
1997. 30 min. India

On the motivations and challenges of Kalpana Dutta, a freedom fighter during India's struggle for independence.

START: 8:20 PM
Ashgari Bai: Echoes of Silence

Priti Chandriani and Brahmananda Singh
1997. 45 min. India

The 86-year-old singer, once nationally acclaimed and the last living exponent of the Dhrupada genre, lives today in penury. more...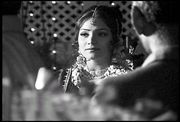 Voices of Dissent:
A Dance of Passion

NoorKhan Bawa

1999. 22 min. Pakistan
A female classical dancer, a male Kathak dancer, a film actress and a mullah reflect on dancing in Pakistan.
more ...
Sunday, November 18, 2001
environment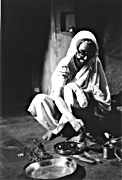 Amrit Beeja
(Eternal Seed)

Meera Dewan
1996. 43min. Karnataka, India.

With insightful interviews and rare footage from India's agricultural industry, this keenly observed film depicts Indian women's struggle to use traditional farming practices instead of chemically-based agriculture. more...

START: 12 PM
Where Healing is a Tradition

Gargi Sen
1997. 30 mins. India.

Presents traditional women healers who practise folk medicine in communities with no other access to medical services.

START: 12:30 PM
Panel Discussion

Angana Chatterji
California Institute of Integral Studies
Anuradha Mittal
Institute for Food Policy Research
Ritu Primlani
Thimmakka's Resources for Environmental Education

START: 1:00 PM
Paddana: Song of the Ancestors
Anula Shetty
40 min
Follows the multifaceted relationships of three generations of women with each other and society in South India.

START: 1:45 PM
Voices of the Morning

Meena Nanji
1992. 12 min. USA.

This video is a meditation on women's roles as defined by orthodox Islamic laws. Inspired by "The Hidden Face of Eve" by Nawaal El Sadaawi, it features layered images and text to explore familial and societal restrictions placed on some South Asian women.

START: 2:25 PM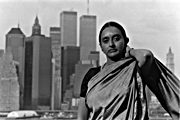 Knowing Her Place

Indu Krishnan
1990. 40 min. USA.

A moving investigation of the cultural schizophrenia experienced by Vasu, an Indian woman who has spent most of her life in the U.S. more...

START: 2:47 PM

Discussion with filmmaker Indu Krishnan
to follow film.
Memories of Fear

Madushree Dutta
1995. 57 min. India.

A film on the interplay between sexuality, construction of fear, and women's own contribution to the system which continues to denigrate them. Memories of Fear is an attempt to capture the process of socialisation of girl children which makes them vulnerable to violence in later life. Four parallel narratives trace the path of growing up of childwomen of varied age groups. The film deals with the shattering of their dreams, the construction of their desires, the growing alienation from their body and the formation of fear. Although the experiences are apparently insignificant, they influence the gender construction of women's psyche. The experiential narratives are juxtaposed with interviews of older women who have gone through violent marriages and are able to trace the connection between the construction of feminity and violence.

START: 4:15 PM

Dushomoy
(A Mother's Lament)

Yasmine Kabir

1999. 26 min. Bangladesh
A 16-year-old garment factory worker is picked up by the Dhaka police, allegedly gang raped and dies in custody.
more ...


START: 5:22 PM
From the Burning Embers

Sabeena Gadihoke
1993. 37 min. India.
An indictment of sati, highlighting the story of Roop Kanwar. The film places the incident in the context of the increased strength of religious fundamentalism in India in the 1980s, and the government's cowardly passivity in order to gain votes.

START: 5:48 PM
feature film

Mirch Masala
(Spices)

Ketan Mehta
1986. 98 min. India.


A British-Raj tax collector (Nasseeruddin Shah) lords over a village and demands the sexual favors of a woman Sonibai (Smita Patil) who refuses.
November 17th

November 18th

California College of
Arts and Crafts

Timken Hall

1111 Eight Street,

San Francisco

directions

University of California, Berkeley
Room 2050,
Valley Life Sciences Bldg
Berkeley

directions
Narika: A Helpline
for South Asian women
seeks to empower the women of our community in order to confront the cycles of domestic violence, exploitation, and ignorance; to build leadership; and to build a movement that works to end violence against women. 510.540.0754 narika@narika.org

Thimmakka's Resources
for Environmental Education
named after an Indian "untouchable" woman, is a global South Asian environmental non-profit based in Oakland. They conduct programs locally as well as globally, bringing the South Asian and environmental cultures together to facilitate our movement to a safer future. 510.655.5566 thimmakka@thimmakka.org

EKTA
seeks to bridge the progressive South Asian community through artistic statement, sociopolitical dialogue, activism, and community building. Our organization works to increase awareness and create a platform for changing the social, political, and economic issues facing the South Asian community and beyond. contactus@ektaonline.org