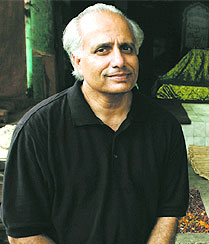 THEATRE
WITHOUT
FRONTIERS

Video clips and discussion with
Pakistani Playwright
SHAHID NADEEM

Shahid Nadeem is a leading Pakistani playwright and theater director who has worked for nearly three decades with the theatre company, Ajoka --translated as theatre for social change. He will talk about the challenges and risks of running a theatre, which refuses to accept censorship by the State or the militants and about his experiences of taking his plays to India and Bangladesh. He will also refer to his work for Pakistan television and Zee News.

Shahid and his theatre group have been in the forefront of the movement to develop peoples to people links between peoples of Pakistan and India. He has spoken publicly and defiantly against Pakistani Establishment's lack of interest in promoting peaceful settlement of disputes with India. His group is the only theatre group, which has traveled to and performed in India, and also invited Indian Theatre experts and activists to Pakistan.

Several of his plays directly or indirectly deal with the complex and sensitive issues dividing Pakistan and India. They include:
(i) "Sixth River": A short play on communalism in South Asia, performed in Bangkok at Peoples Assembly in 1992. It was directed by an Indian Theatre director, Anuradha Kapur and the cast included actors from India and Nepal.


(ii) "Toba Tek Singh": Based on the great Urdu fiction writer Manto's short-story of the same name. It is about a mental asylum at the time of Partition and attempts to move the insane from one asylum to another.


(iii) "Aik Thee Naani": A play based on the true story of two sisters, Zohra Segal and Uzra Butt, who were leading actresses at the time of Partition. They were separated and acted together, after four decades, in this play. The play shows how the life of one sister changed when she came to Pakistan and how she came to reconcile with her past, with some help from her sister visiting from India.
The play also attacks the double standards in Pakistani society towards performing arts.


(iv) "Dukhini": A play about the trafficking of Bangladeshi women to Pakistan. A collaboration between a Bangladeshi theatre group, BITA, and directed by Bangladeshi director Sara Zakir. The play has been performed all over South Asia.


(v) "Bulha": A play about the life and times of Sufi poet Bulleh Shah in the 17th Century. An indictment against religious intolerance and a call for love and peace in the region. Bulleh Shah's music sung as qawalis and kafis.


(vi) "Border-Border": A play for children about the war and hate mongering by Pakistani and Indian governments and media. Play performed in Chandigarh in June 2001 by Indian and Pakistani children.
---
Shahid Nadeem
Shahid Nadeem is one of Pakistan's leading playwrights and is well known for his commitment to human rights, social change and peace. He has been a student and trade union activist and suffered imprisonment and harassment under various authoritarian governments. During his exile in 1980-87, he worked as Amnesty International official in London, and later its communications officer in Hong Kong. He is the founder of Pakistan's pioneering theatre group, Ajoka and writes most of Ajoka plays. Shahid has worked as a director/producer for Pakistan Television and for his Ajoka Productions. He has also worked for BBC Urdu Service and Zee News.
Shahid was granted Feuchtwanger Fellowship in 2001 by Villa Aurora, in collaboration with the Getty Research Institute, 18th Street Arts Complex in Santa Monica and International Pen-West. During his stay in LA, he lectured at various universities and other cultural institutions. His group participated in LA International Arts Festival in July 2001 where his play "Bari" (the Acquittal) was performed. Staged reading of two more plays was done at Highways Theatre, Villa Aurora and UCLA Hammer Museum. His short play on 9/11 was read at Beyond Baroque in December 2001.

View recent article on Shahid in "Written By", Writers Guild of America-West magazine.
Photos on this page by Kate Brooks/Corbis SABA